WATCH ONLINE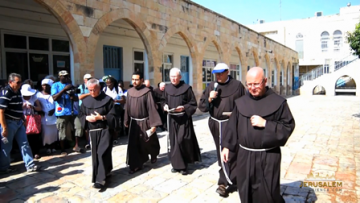 Enjoy the most Spiritual Experience of Your Life! Watch ON LINE The Via Dolorosa Experience Movie to Join the Franciscan Friars on their Friday Walk and Pray of the "Way of the Cross" along Jesus' last journey from the site of his trail to the site of his crucifixion at Golgotha and later on , his resurrection – this practice in Old Jerusalem goes back 7 centuries.
Join thousand of Christians who flock to Jerusalem from all over the world, every year, to enhance their faith in God by remembering and meditating upon – in a given order – what inflicted the greatest pain on Jesus Christ on that sorrowful path along the Via Dolorosa. 
This is how it works:
Click on the button "Proceed to Buy" below.
You will be directed to pay via PayPal or Credit Card outside my site.
After approving your payment, you will be Redirected Back to my site to watch the Movie.
The Pass will be valid for only 4 hours in which you could watch the 28 min movie on your screen.
From the Comfort of your home via your computer/tablet/mobile be with Jesus in his final hours.
Are you ready for the Spiritual Experience of your Life?
ONLINE PASS – $2.99