WATCH ON YOUR TV + CRUCIFIX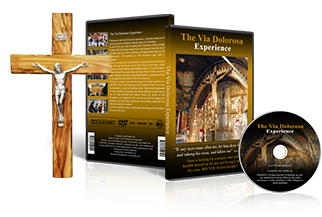 When you purchase this premium package, you can watch the Via Dolorosa Experience on your TV screen and hold in your hands this wonderful crucifix made of olive wood with a silver plate image of Christ from the city of Bethlehem. By holding the crucifix in your hands while watching the movie on your TV Screen, you are experiencing all three senses: seeing, hearing and feeling, as you are meditating on Jesus and His passion.
When you buy this premium package of the DVD with the crucifix, you SAVE 20% on the combined price of the two items. In addition, you SAVE 50% on the combined shipping cost.
Premium Package – DVD + CRUCIFIX: $19.99 (before $4.97 for shipping)