PRAY WITH THE CRUCIFIX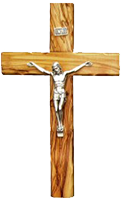 For a greater watching experience, we recommend that you to hold a crucifix made from olive wood with a silver plated image of Christ. This crucifix is made in the city of Bethlehem where our lord Jesus was born.
While holding the crucifix as you watch the movie you shall experience all three senses: seeing, hearing and feeling, as you are meditating on Jesus and His passion.
 Pray with the Crucifix: $9.99 (before $4.97 for shipping)